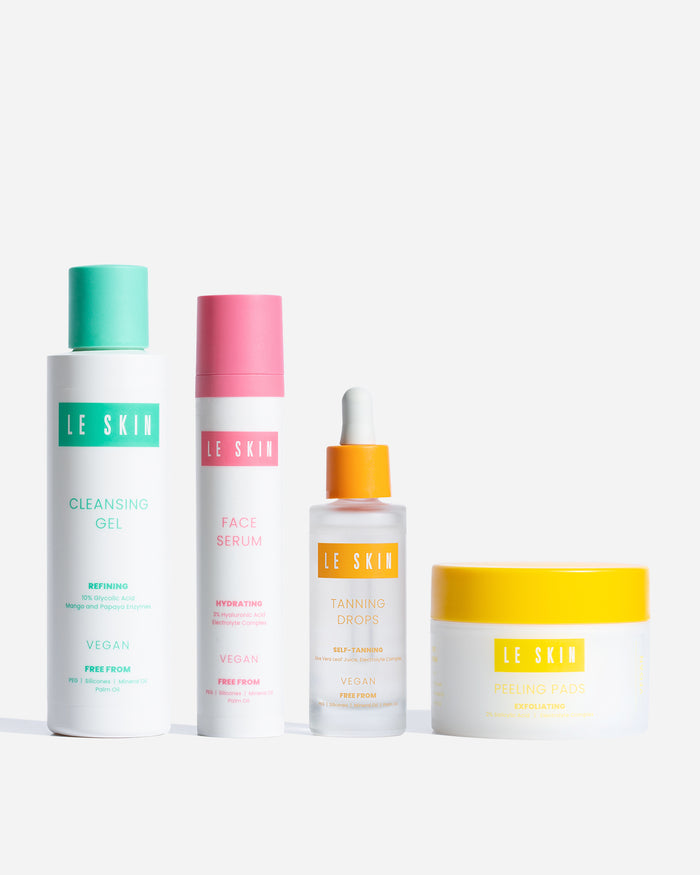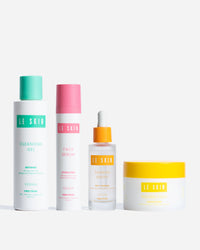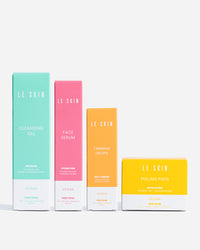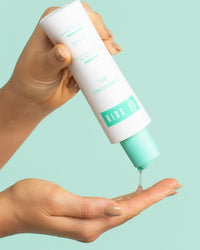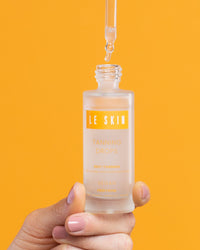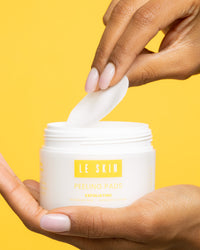 Our Promise
Highly effective formulations created by industry experts, backed by science.
INGREDIENTS
add
remove
Cleansing Gel:
Aqua/Water, Glycolic Acid, Decyl Glucoside, Sodium Hydroxide, Glycerin, Mangifera Indica (Mango) Fruit Extract, Carica Papaya (Papaya) Fruit Extract, Leuconostoc/Radish Root Ferment Filtrate, Citrus Aurantifolia (Lime) Fruit Extract, Cupric Chloride, Ferric Chloride, Magnesium Chloride, Manganese Chloride, Calcium Chloride, Zinc Chloride, Phenoxyethanol, Xanthan Gum, Polyacrylate Crosspolymer-11, Sodium Benzonate, Parfum/Fragrance, Propylene Glycol, Trisodium Ethylenediamine Disuccinate, Propanediol.
Face Serum:
Aqua/Water, Sodium Hyaluronate, Panthenol, Pentylene Glycol, Propanediol, Glycerin, Butylene Glycol, Ascorbyl Glucoside, Zinc Chloride, Magnesium Chloride, Manganese Chloride, Ferric Chloride, Cupric Chloride, Calcium Chloride, Phenoxyethanol, Alcohol Denat., Xanthan Gum, Cocoyl Proline, Propylene Glycol, Ferulic Acid, Parfum/Fragrance, Ethylhexylglycerin, Geraniol, Citronellol.
Peeling Pads:
Alcohol Denat., Aqua/Water, Glycerin, Salicylic Acid, Heptyl Glucoside, Propylene Glycol, Sodium Hydroxide, Zinc Chloride, Magnesium Chloride, Manganese Chloride, Calcium Chloride, Cupric Chloride, Ferric Chloride, Parfum/Fragrance, Melaleuca Alternifolia (tea tree) Leaf Oil, Heptanol.
Tanning Drops:
Aqua/Water, Aloe Barbadensis Leaf Juice, Dihydroxyacetone, Alcohol Denat., Glycerin, Polyglyceryl-10 Laurate, Dicaprylyl Carbonate, Sodium Hyaluronate, Ferric Chloride, Cupric Chloride, Calcium Chloride, Magnesium Chloride, Manganese Chloride, Zinc Chloride, Phenoxyethanol, Hydroxypropyl Cyclodextrin, Propylene Glycol, Parfum/Fragrance, Lactic Acid, Ethylhexylglycerin, Xanthan Gum, Pentylene Glycol, Citronellol, Geraniol, Tocopherol.
WHAT'S INCLUDED?
add
remove
Cleansing Gel:
Start your skincare routine with this deep cleansing powerhouse gel, formulated with a high concentration of glycolic acid to lift away stubborn dirt, oil and impurities. Mango and papaya enzymes supercharge your skin with a gentle exfoliation, providing a clean sweep, stimulating cell turnover and ultimately leaving you with buffed, baby-soft skin.
Face Serum:
This serum is basically pure hydration in a bottle. Thanks to 3% hyaluronic acid, moisturising effects surge deep into the skin. The electrolyte complex replenishes dehydrated skin, strengthens the skin's barrier and provides the skin with a soothing, calming effect. You'll be left with hydrated, plumped and smoothed out skin – hydration never felt so good.
Peeling Pads:
Single-use peeling pads that will leave you feeling and looking fresh-faced. Saturated with salicylic acid, they work to provide deep, yet gentle exfoliation, sweeping away oil, dirt and makeup residue, battling breakouts while also keeping that oil at bay. They are also infused with moisturising and nourishing actives to counteract any dryness, keeping the skin blemish-free, balanced and bouncy. Revel in fresh, radiant skin that's oh so soft.
Tanning Drops:
Create a gorgeous, buildable, healthy tan with these self-tanning drops. Enriched with a nourishing blend of goodies like aloe vera leaf juice, hyaluronic acid and an electrolyte complex that boosts hydration for a dewy, plumped tan. You'll be radiant, luminous and feeling fresh-faced all year round. It's always summer somewhere…Ready, set, glow!
How do I use this set?
Suitable for daily use as part of your AM and/or PM routine.

Step 1: Cleanse.
Gently massage into damp face and neck. Rinse off with lukewarm water and pat softly with a towel to dry.

Step 2a: Refine.
Sweep a pad over cleansed face, neck and décolleté. Suitable for use up to two or three times per week in the evenings. Perform on alternating days from Tanning Drops.

Step 2b: Glow.
Depending on the desired level of your tan, apply 2-10 drops on pre-cleansed, dry skin. Remember to always wash hands after use. Use up to three times a week, on alternating days from the Peeling Pads.

Step 4: Hydrate.
Pump a pea-sized amount onto your finger and spread the formula through your fingertips. Gently pat the serum onto your face and neck. Apply daily both AM & PM.


Tip:
For the Tanning Drops, as part of this routine, complete Step 1 then mix Tanning Drops with Hydrating Serum for a luminous or sun-kissed glow.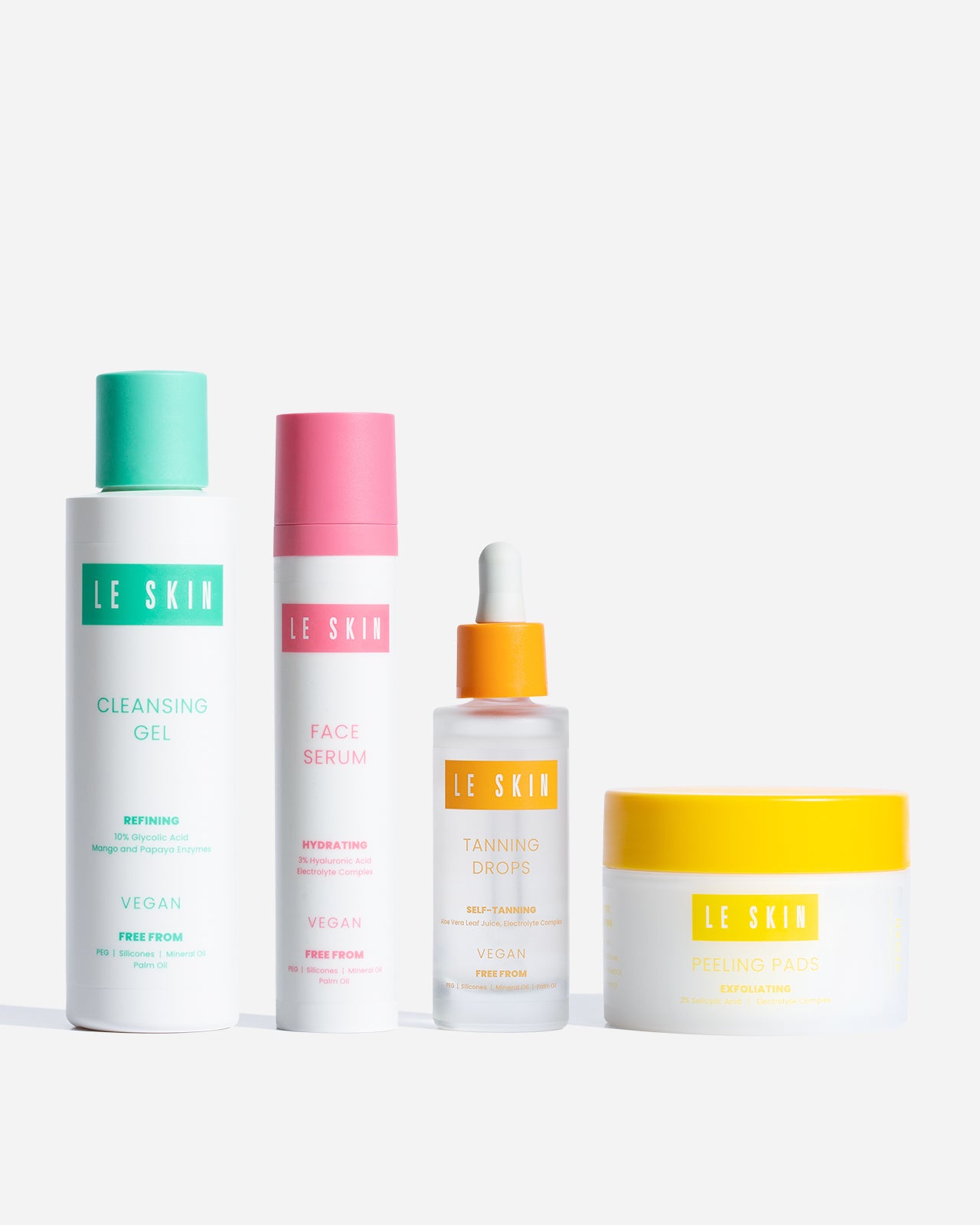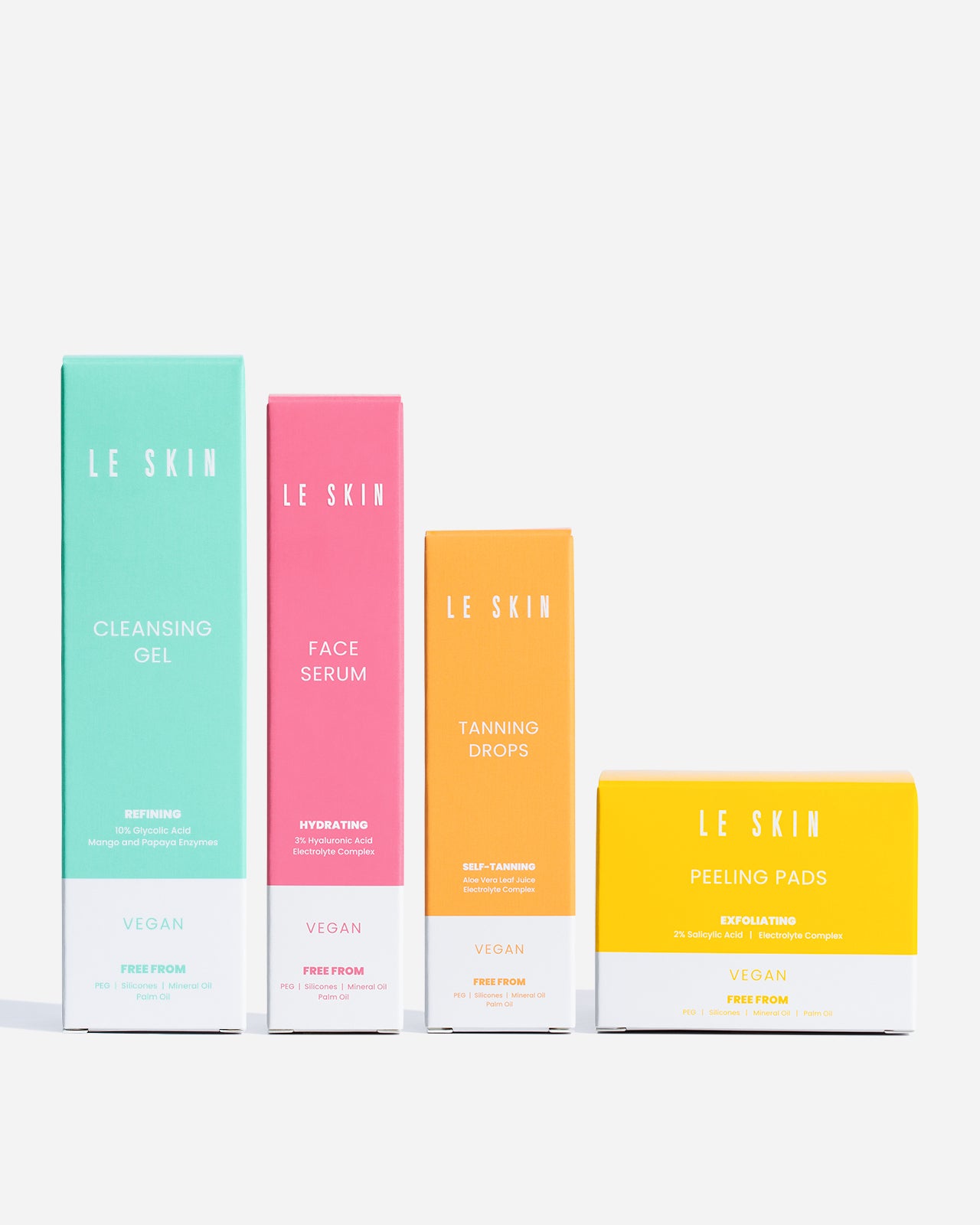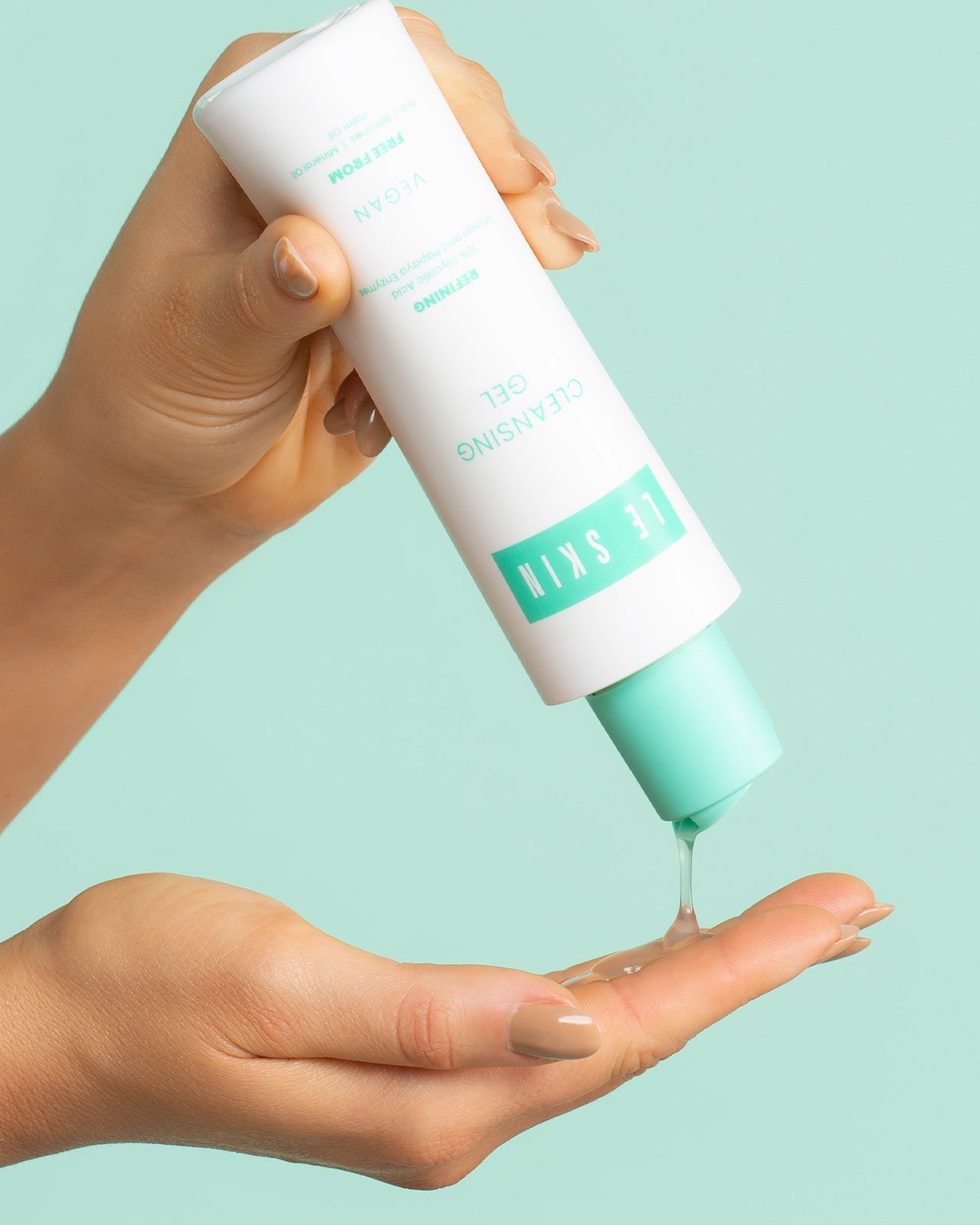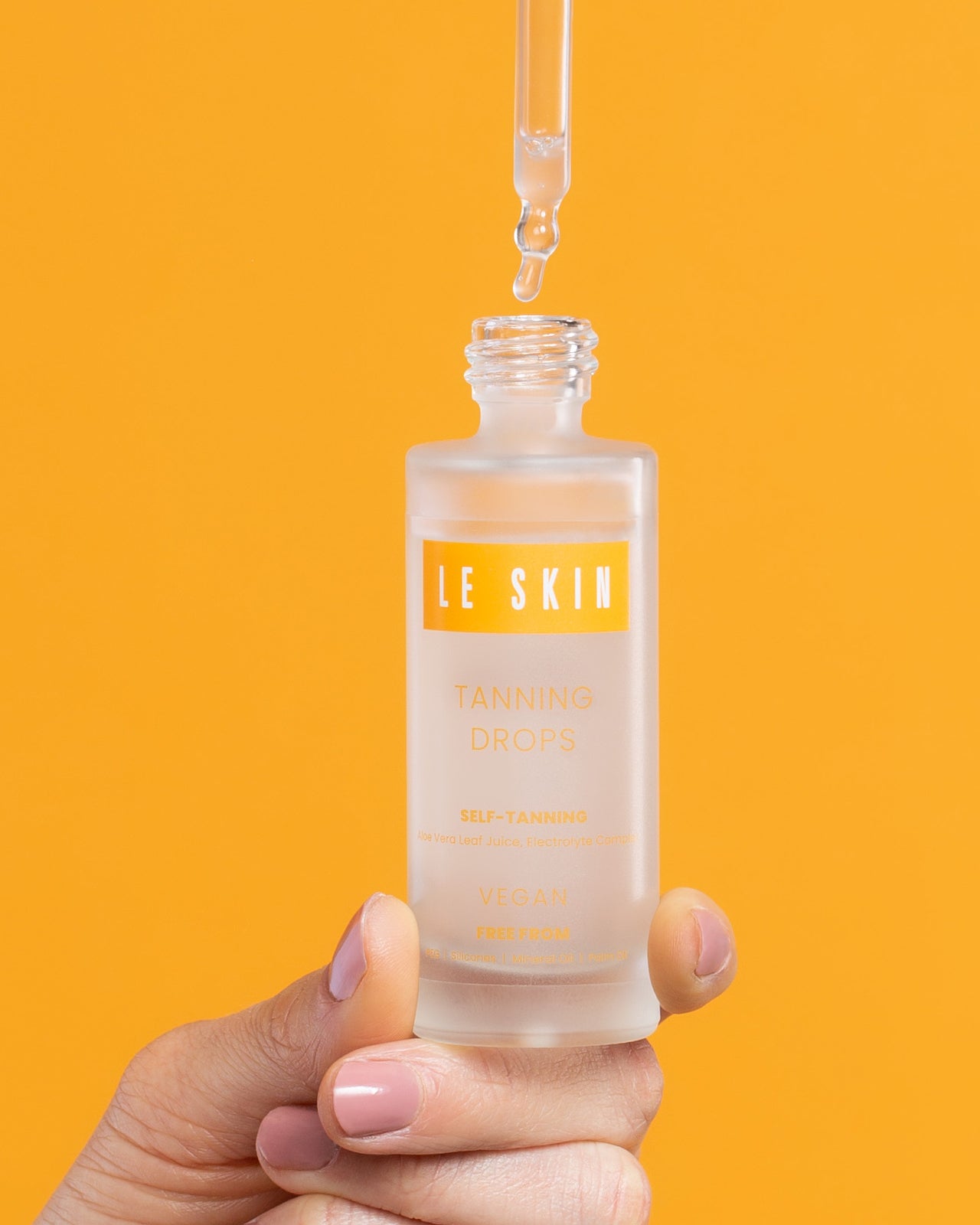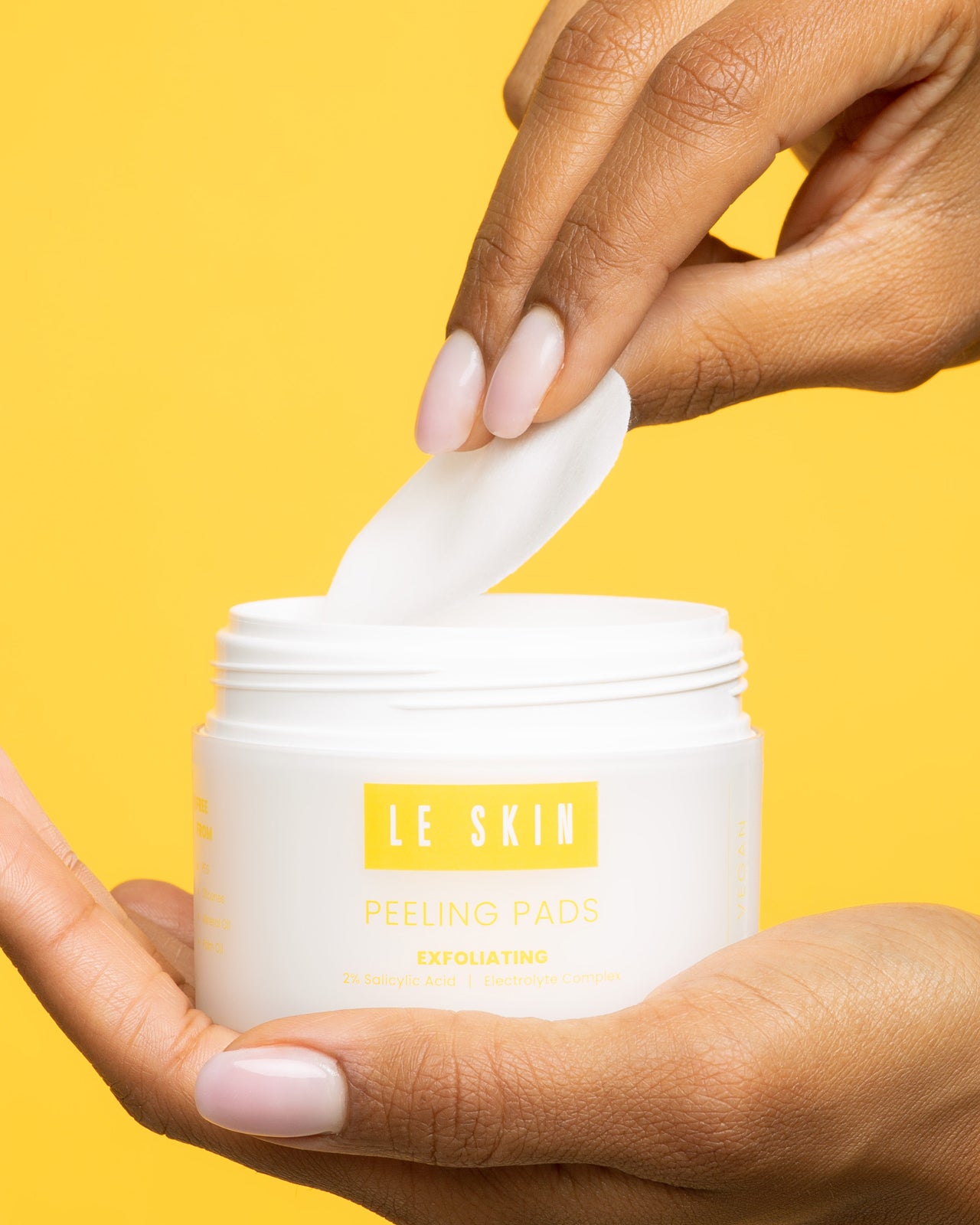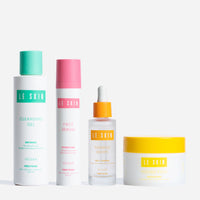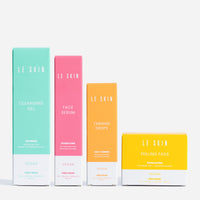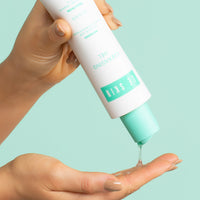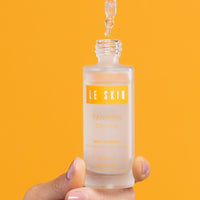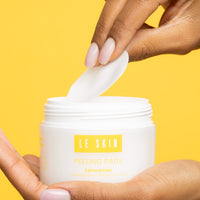 Join the Le Skin community!
Sign up to our newsletter and join the Le Skin Community to receive updates, exclusive deals, and more.